5 Must-Follow Tips On Your Tattoo Day
By now you might already have a tattoo or many tattoos. Possibly it's your first tattoo. No matter your experience, here are 5 tips that will make your tattoo day smooth and amazing.
1. Always have a good breakfast and bring snax
Our body is fueled by food. Our blood sugar evens out and our endorphins are powered by it. Having a good base meal makes a solid foundation for the day. When we tattoo there is little breaks where artists and clients all keep fueled. Also little snacks or candies will help distract and give little bursts of tastebud love during the tattoo. On longer sessions we might break for lunch but no matter what this is a time where eating and snacking is highly encouraged.
2. Wear something comfortable and warm
If you are comfy and cozy it definitely will take the edge off. It's important to wear something dark that wouldn't be ruined by tattoo ink. Also, something that makes it easy to access the tattoo area, e.g. break-away pants, tank top, basketball shorts.
When you get a tattoo your body tends to heat up in the first 20 minutes, then gradually you will cool down and may want your sweatshirt. During the summer we rock the air conditioning and It will feel amazing for a bit, but after a while you might feel a bit like a popsicle. Sweatshirt and sox are a must.
3. Bring your headphones
We listen to an array of music, rotating between each artist's picks. If you have music or something that might relax you, we strongly encourage you to have your headphones as an option. On some projects our artists might choose to wear their own headphones as well, which can help them focus without the general shop distractions. Always keep your audio level low enough so your artist can communicate and it doesn't distract anyone.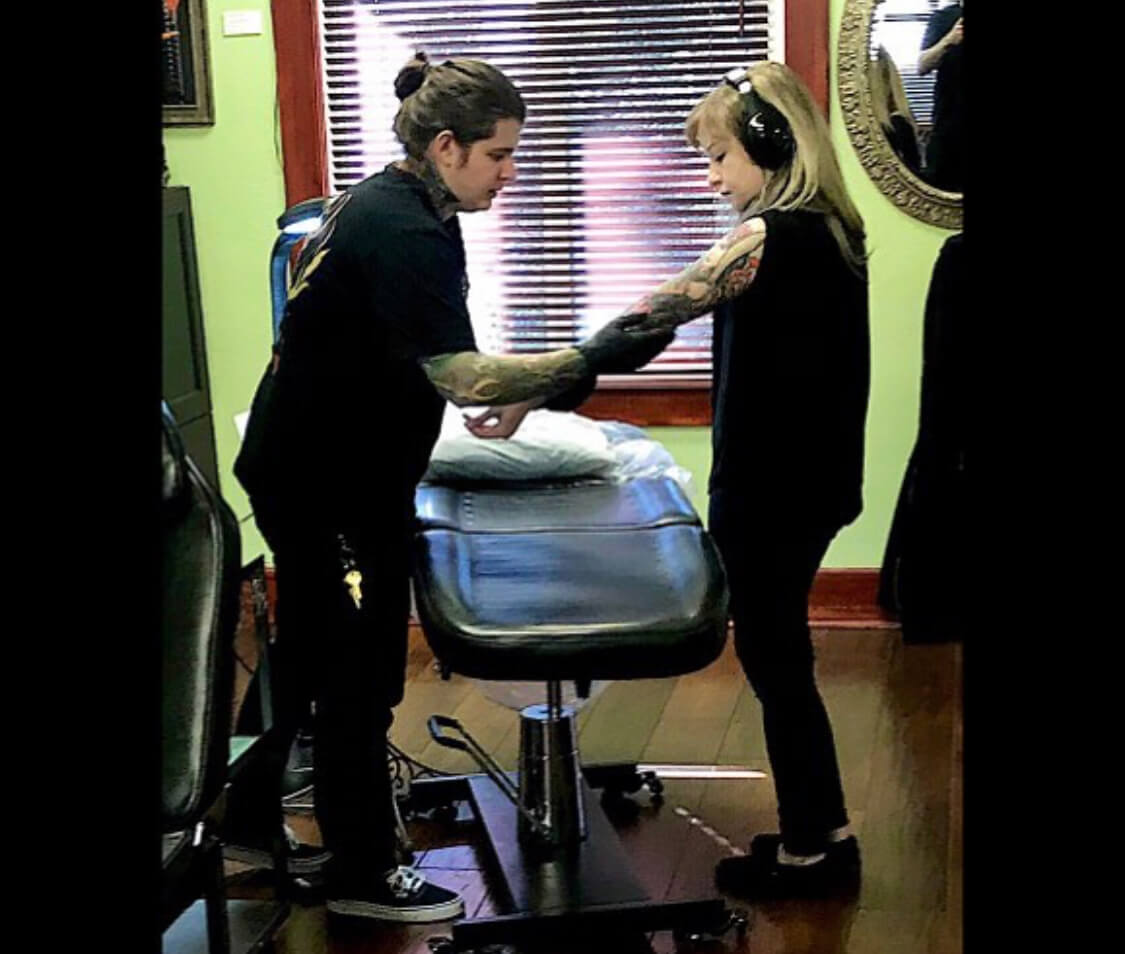 4. Clean sheets and clean clothes
Tattooing is a clean procedure and our clothing and personal sheets at home should reflect that. Being showered with a fresh set of clothes is a great way to start your tattoo's healing process. If you're coming from work, bring your tattoo clothes with you. Wearing deodorant is definitely awesome and perfumes not so much.
It's also very important to change the sheets before you get tattooed, especially if you have pets. This will provide a safe and clean environment for your new tattoo while sleeping.
5. No hangovers
This is the number one mistake a client can make. The obvious problem is the thin blood making it harder to tattoo, but most important is the fact that getting tattooed hungover SUCKS! Your stamina and ability to relax will be low, and everyone's experience will suffer.
Be respectful to the artist and yourself and keep your cool the night before. It will be more fun celebrating when your tattoo is done.
Bonus Tip
Bringing treats for the whole class goes a long way!
Double Bonus Tip
Check Out Our Artists