May 2015 – Magazine Spread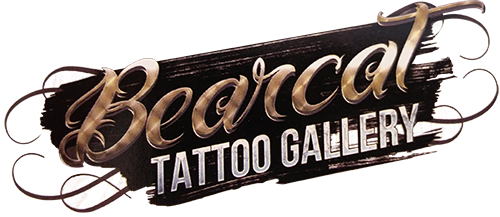 The 4L Magazine interview with the artists from Bearcat Tattoo Gallery
FINE ART MEETS TATTOO PARLOR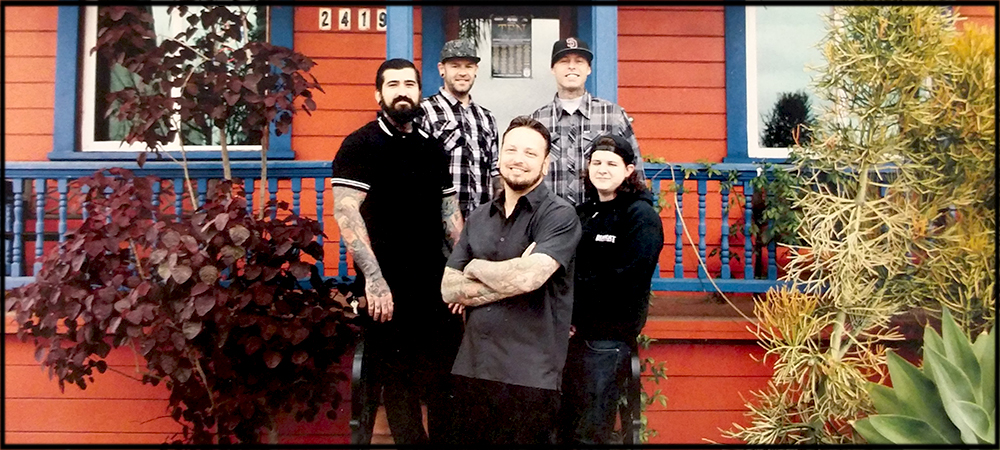 Tattoo parlor meets art gallery. Art gallery meets portico. Portico meets artistic elegance. Artistic elegance meets groovy dudes. Groovy dudes meet tattoo masters. Tattoo masters, welcome to Bearcat: the coolest tattoo parlor/art gallery in Southern California.
Owned and operated by Sierra Colt, Bearcat is the artistic residence of Sierra Colt, Chad Whitson, Alonzo Villa, Nate Anderson and Matt Heinz who are a trendy collection of incredibly talented tattoo artists with passions for fine art.
Located in the heart of Little Italy because that community inspires the tattoo artists, Bearcat gives body art the life it deserves while mind-blowing—and I do mean mind-blowing—art adorns its walls. One walks into an art gallery described as "relaxed" by its resident masters because of its ambiance of warm colors, hip music and lack of clutter and noise associated with most tattoo shops. But with art that left me breathless, I was everything but relaxed. Flabbergasted, mesmerized, speechless and overawed, yes, but relaxed would have required chamomile tea and a budget to bring several pieces home.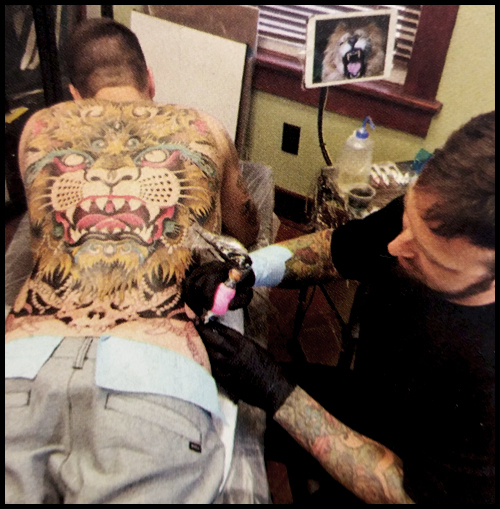 "Our tattoo shop is an art gallery," explains Colt. "Every artist was hired not only for his talent with tattooing, but for his artistry in multiple fashions. Bearcat's a group of guys with positive energy and tattoo mojo. My goal with Bearcat is to make great contributions to the world of art and tattoos. And we're on the right track. In the last three years, we've done amazing art shows that translate our art and paintings instead of cut and paste tattoos."
Bearcat's synergy is palpable, their talent colossal and their eloquence comforting. These dudes truly transform art layered on a flat surface medium to the curve of one's body. According to Colt, customers are welcomed to sit with each artist and generate colorful creative ideas that "push the tattoo boundaries of fine art." They are, as they put it, "anti-blotch."
"I'm a dramatic artist who focuses on detailed, ornate designs in my paintings and tattoos," Colt says. "I use filigree–embellishments and ornamentally adorned detailed pieces of lace, gems and jewelry–to make a painting interesting and reflective while inspiring a new tattoo. Chad's an illustrative artist who builds characters into his creative designs. Alonzo and Nate are photo realists, which is as close to fine art as you can get. Photo realists replicate a beautiful photograph as an oil painting on the skin. Alonzo excels in Star Wars nerd while Nate's a photo realist with a side order the World of Disney characters. And Matt, our resident apprentice, sticks to the traditional, darker colored pieces. Bottom line, we take attributes of our artwork and translate it to the skin."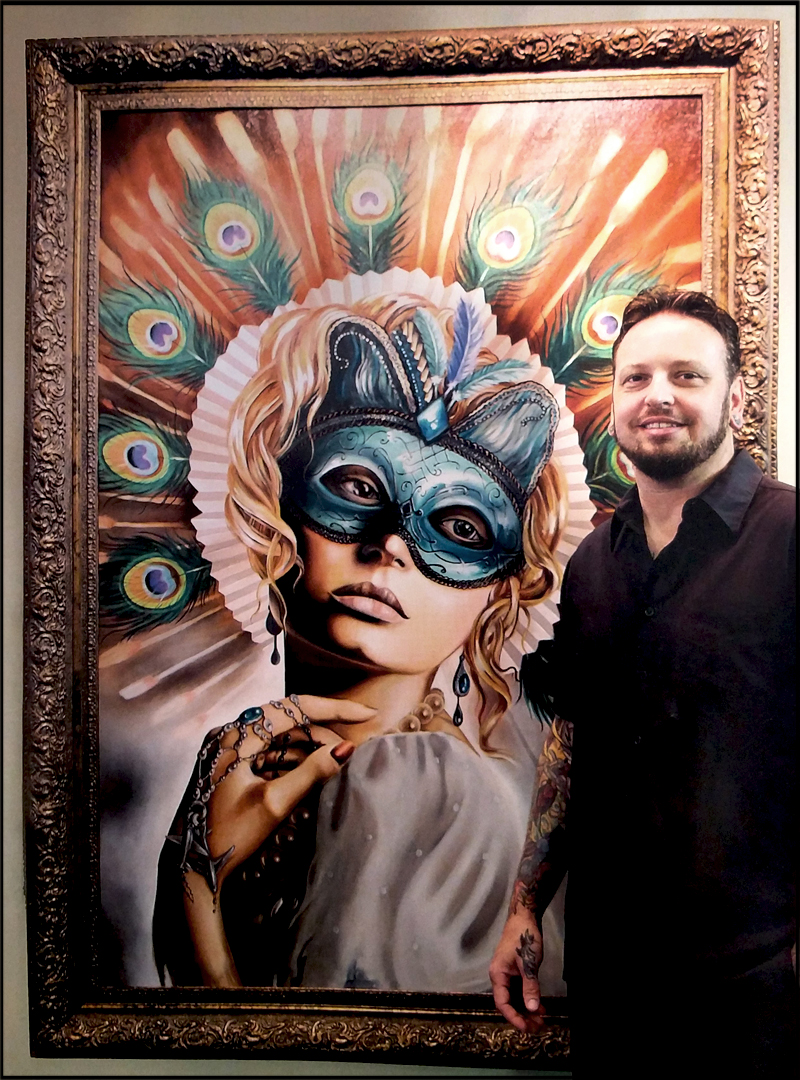 "We push the tattoo boundaries of fine art."
The dudes are smart, the gallery's rad, and nothing within eyesight is considered out of reach as a tattoo. Tattoo sketches are neatly hung at respective stations along with an easel and painting in progress. And Bearcat's really quiet. Screeching, high-pitched, buzzing coil machines have been replaced with silent rotary motor machines. Tatted by the likes of these artists may just be the new black. And yet talk to any one of them and you discover these are the gentlemen you want your daughter and sister to marry. Choosing the unchosen may just be harder than choosing one's tattoo.
Inspired by the likes of Leonardo Da Vinci, Peter Paul Rubens and Caravaggio, Marine brat Alonzo Villa, Colt's onetime apprentice, defines his paintings as scattered in style but genre specific. "I do a lot of pop culture, hipster and photo realistic portrait work," says the 26-year old. "Bearcat customers choose an artist based on his area of expertise. With no particular artist in mind, clients look at portfolios and select one best suited to their style."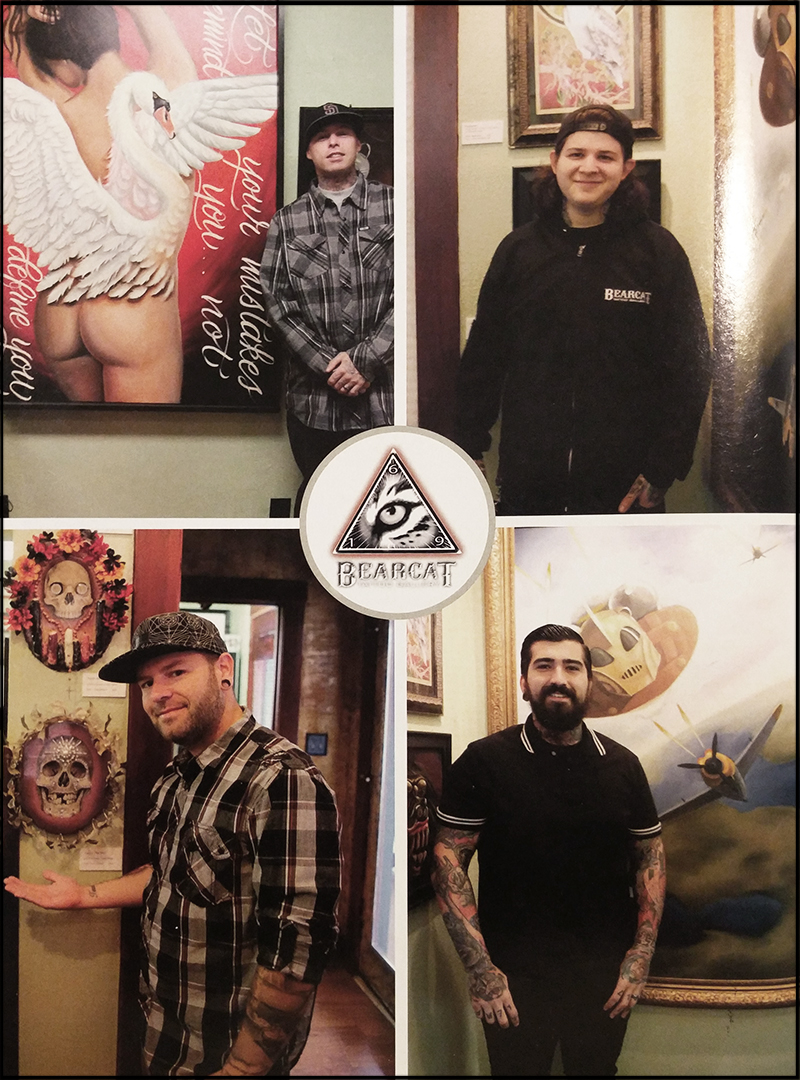 Villa prided Bearcat as a friendly, yet professional, atypical environment. Customers are doted on and indulged with fine art. "Everyone's first reaction–WOW! Bearcat's not your average tattoo shop," he says. "We have a mysterious vibe between our display of fine art and our quiet calm. And that quiet relieves anticipation and anxiety, especially for a first-time client."
Nate Anderson, Bearcat's sole San Diego native, embarked on his tattoo career through teenage graffiti. Art classes at Mesa College followed suit, giving the already arty kid donning his first tattoo at age 16 the ability to "hone in on developing what I love to do. I knew I wanted to be a tattoo artist after my first tattoo. I love having the freedom to create and Bearcat's the perfect atmosphere for artistry. Painting and tattooing go hand-in-hand. One medium inspires the other. My tattoos feed my paintings and my paintings inspire my tattoos. I create in an environment of good vibes. This is family."
Anderson's Disney characters and portraits are larger than life. Photographs should only look so good. And oddly enough, the blond-haired, blue-eyed cutie is humble, really humble. "I believe that everyone has the talent to do what they love. You just have to work for it. And I intend on working with my art for the rest of my life."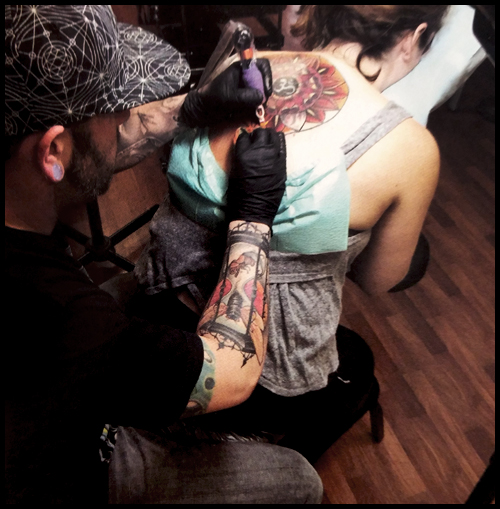 "I consider it a blessing to love what I do."Chad Whitson
Thirty-five-year-old artist Chad Whitson originally landed in San Diego while networking tattoo artist guest spots. Determined not to settle for a street shop covered with flash walls more concerned with income than quality while "cranking out tattoos," Whitson found a spot in Ocean Beach that "wasn't perfect but it worked for color and cover-ups. The shop's mainstay was Polynesian art. I'm a white kid from Toledo who didn't know much about Hawaiian tribal. I met Sierra who was working with Alonzo in another shop in Pacific Beach. I knew immediately that I wanted to work with Sierra as both an artist and an individual. Everything fell into place when he contacted me with an opportunity at Bearcat."
Whitson said that tattoo art was his way of learning art without attending school. "I didn't want to go to college to be told what or how to draw by following someone else's rules. I wanted creative freedom, not flash art. That is, pick a cookie cutter, massed produced and distributed, B4 flash design. Fifteen years ago tattoos were mostly all flash. Nowadays clients come in with creative ideas that we turn into fine art instead of something that looks like a sticker."
He added that 85 percent of his tattoos are cover-ups, mostly names no longer held in high esteem and/or bad tattoos that need restoration or complete blast overs. "I fix cursed relationships and mistakes," he says. "But I consider it a blessing to love what I do. From the minute I learned how to hold things in my left hand, my love for art evolved into one of the most fulfilling parts of my life. I love drawing with colored pencils, painting, sculpting and crafting anything into creation. Tattoos are my permanent and positive impressions on people. I've watched the tattoo industry completely change for the best. And I commend all the artists and shop owners for stepping up their games."
Whitson's apprentice Matt Heinz claims no formal training other than his two-year apprenticeship. "I had no idea that I had this talent," he confides. "It took everyone else to believe in me, to believe that I could do it. Every day is a different challenge to work through and learn. It's insane."
Looking to side-step common names of "skin something," Colt named the former Day of the Dead store Bearcat to commemorate a World War II, single-engine American fighter airplane that served the U.S. Navy and Marine Corps. How fitting: The landmark (1906) little orange house with blue trim sits directly beneath the flight path of incoming planes. "Bearcat's a destination," Colt says. "If you build it, they will come."
He learned the business side of tattoo from owning his first shop in Breckenridge, Colorado, although San Diego was always the ultimate destination. "Living by the ocean has always been my dream," says the Minnesota native. "And Southern California has the best reputation for tattoo art. My art outgrew the transient population of Breckenridge. Not enough clients wanted my large scale, full body tattoos. And that's what I do, striking sleeves, backs, legs and chest pieces that command attention. Pieces that are just bad-ass."
Colt leaves no stone unturned. Workshops, conventions and guest spots are a mainstay at Bearcat because "education's key for getting better at what we do."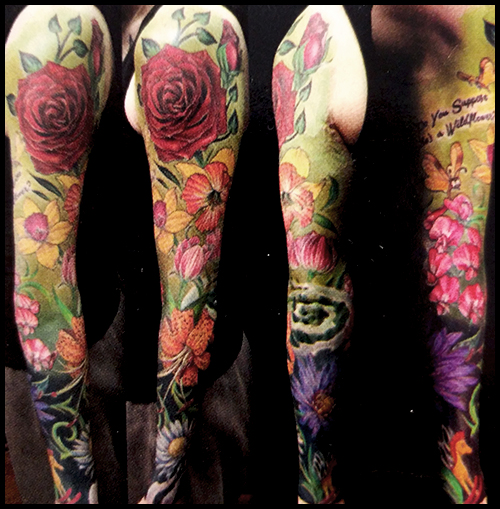 According to Whitson, Sierra's an amazing boss. Not only does he strive to keep the guys happy, shop revenue orbits right back into Bearcat. "It's the kind of place," he says, "where you want to stay."
"I'm in this little orange house by a twist of fate and years of doing what I do," concludes Colt. "Bearcat clients know what every artist is capable of and trust us with the freedom to create. It's amazing, really amazing. There's a voodoo behind tattoos. That is, you shouldn't be but you are."
Article Written by By Lucia Viti at 4L Magazine / May 7, 2015 / 4lmagazine.com/bearcat-tattoo-gallery