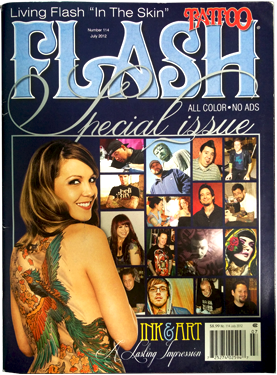 July 2012 – Tattoo Flash Magazine Interview

"I believe that traditionally a tattoo design is meant to have longevity."Sierra Colt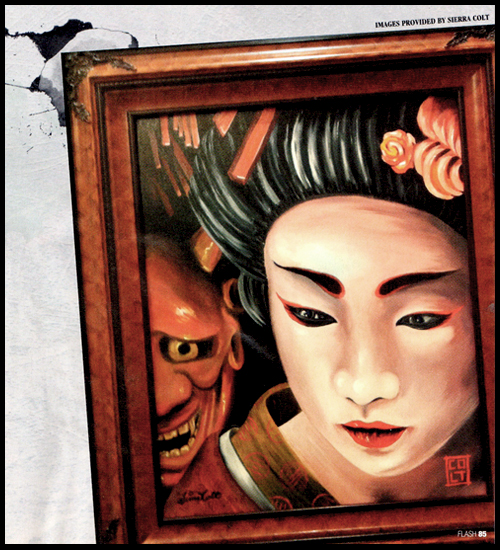 Sierra's work is best described as a harmonic contrast of bold colors. He is known for doing big, bodacious tattoos that cover as much skin as his customers will let him get away with.
Asian art is where his heart is. He loves the flow and style of traditional Japanese designs as well as the detail and history of Tibetan gods and mythology. He likes to pair classic Asian tattooing techniques with modern realism and detail, creating a look that he calls "Asian Fusion."
"I am always aware when designing a piece that this piece has to last twenty-plus years. We can get super fancy with our super detail, and I do sometimes. We can capture amazing art on canvas and translating that to tattooing can yield impressive results. I would like to take more of my oil painting designs and actually tattoo versions of them on skin, but a tattoo has to withstand time. The details should be done well enough so that if they were to blur or fade, the piece would still remain strong."
Sierra spent a couple of years in college studying commercial art. He has worked as a screen printer and as a graphic designer. Tattooing is his favorite art to do, but for the last few years has been totally fascinated by oil painting and says that he has more ideas then time to execute them.
It is no surprise that he is short on time. in addition to a flourishing tattoo career, he has a new baby boy to keep him occupied. "His name is Kingston Clay Colt. I find myself happy just hanging with the little fella. I believe I'm turning into a bit of a family man. I got the wife, kid, dog (Mugsy), and hanging out with them keeps me happy" says Sierra, "Given the time, I also love playing music with friends and going out to see live shows"
The bands he is always most excited about seeing live are Pushing Rope as "evil high-energy hillbilly band local to San Diego" and Drunkin Punkin Idiots (D.P.I). Sierra had the pleasure of playing upright bass with Pushin Rope for four years and recording two albums. he tattoos his friends in D.P.I and has created a bunch of artwork for the band's T-shirts and albums. "D.P.I will blow your effin' mind. You need to google them right now."
Sierra also watches "Le Tour De France" religiously– every stage, every year. He is obsessed with golf. Describing his own skills at the game, he says. "I'm an amazing hack that gets incredibly lucky sometimes." A trip to Vegas is something that always makes him very happy.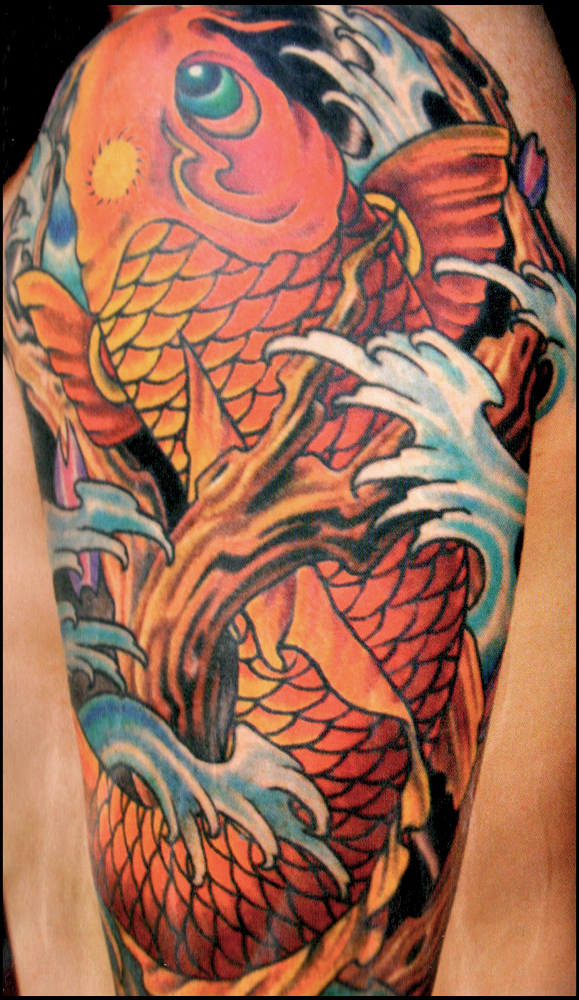 Sierra is open to tattooing "most things in most places most of the time." But he wont touch anything that denotes hatred. Racist tattoo work and gang symbolism truly shows an old, Neanderthal point of view, and I'm not about any of that."
His ideal client is someone who gives him basic idea of what he or she wants and then says. "I love your work, man, so do whatever you think looks best." When he shows his ideal client the stencil, it elicits effusive praise, and dream client tells all his friends how awesome the tattoo is going to be. he also sets up appointments for he next year because he wants that tattoo to be big. He reliably shows up for said appointments. At the end, now-thrilled dream client gives Sierra a huge tip and trots off happily to post pictures of his new tattoo on Facebook. His friends click the like button hundreds of times. Dream client comes back soon and he and Sierra starts planning his next tattoo.